Single Girder Bridge Crane
Here at Zhonggong, as a well renowned bridge crane producer in China, we offer global customers an excellent selection of single girder bridge cranes. The single girder cranes that we make can be equipped with our own CD1 and MD1 type electric hoists to handle materials up to 20 tons. Via intermittent or periodical working mode, and hoisting rings or other load handling devices, these workstation cranes can carry out timely and rapid heavy load transportation.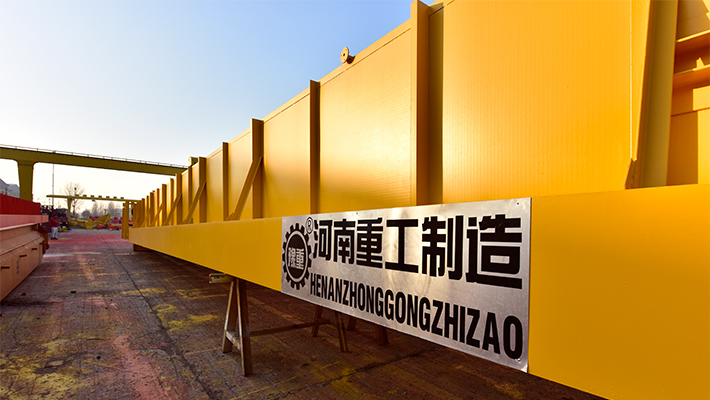 Till now, our single girder bridge crane mainly composed of bridge, electric hoist and electrical system has already become an important tool and equipment for modern industries to realize mechanization and automation, and reduce labor intensity and improve productivity. Specifically, it has been widely used in machining workshops, assembly places, warehouses, power plants, goods yards, etc.
Advantages of Single Girder Bridge Crane
1. Bridge Girder and End Truck
Bridge girder of the crane is a solid web girder engineered from steel or box girder from steel plates; the end truck is a box girder constructed from U-steel. The bridge girder is connected to the end truck by bolts with addition of shear resistant flanges, ensuring easy installation and transportation.
2. Trolley Travel Mechanism
Our single girder bridge crane employs separate driving method. Braking is driven by a conical rotor motor. This will reduce rail wear caused by off tracking and avoid accident resulted from wheel climbing on rail.
3. Hoisting Mechanism
Trolley and electric hoist constitute the hoisting mechanism of the heavy crane. It can be used for hoisting heavy load and traveling along the girder.
4. Electrical System
Electrical system of the workstation lifting products comes with less electric components, simple circuit and easy maintenance. Operation can be completed by pressing the button.
Other Images
Technical Parameters of Single Girder Bridge Crane
Items
Parameters
Max. lifting capacity
1~20 t
Spans
4~31.5 m
Hoisting height
6~30 m
Hoisting speed
Mechanisms
Control methods
Cabin control
Pendant control
End truck
30 , 45 , 60
20 , 30
Trolley hoist
20 , 30
20 , 30