Explosion Proof Crane, Double Girder
Here at Zhonggong, as a Chinese leading bridge crane manufacturer, we are introducing our double girder explosion proof crane to you. All motors and electrical devices of this double girder crane come with ex proof design and can provide protection against explosion in accordance with explosion-proof standards GB3836.2-2000 and JB/T5897-1991. This bridge crane for chemical industry is explosion protected for use in Zone 1 or Zone 2 hazardous areas worldwide, with Ex de IIB T4 and Ex de IIC T4 markings on enclosure.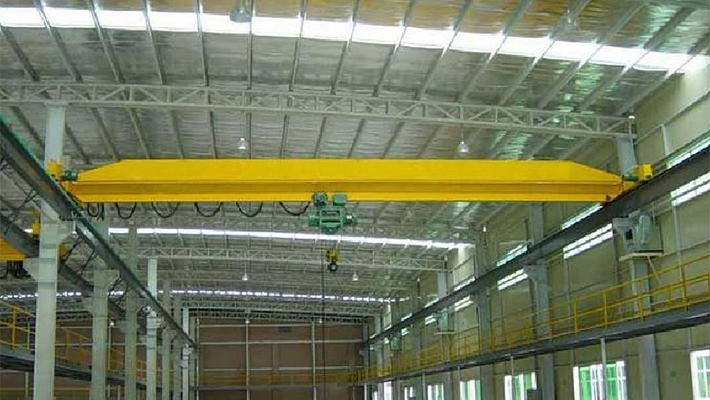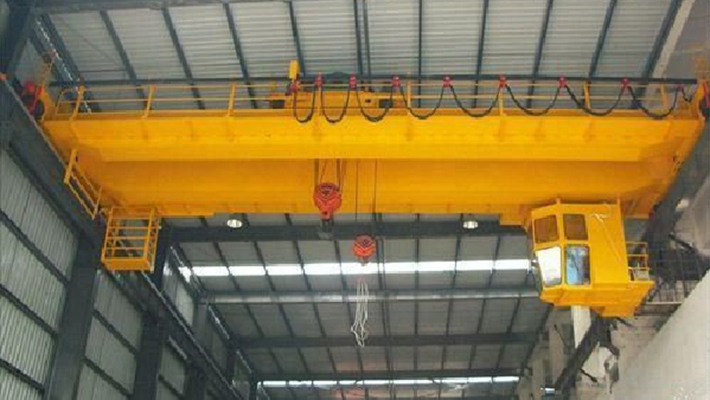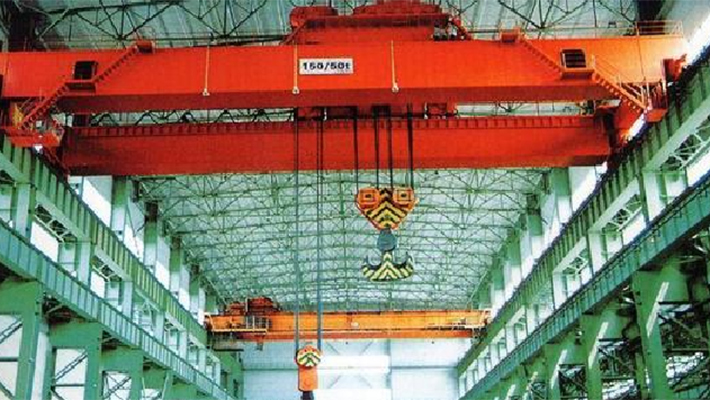 The industrial crane from Zhonggong comes in a range of lifting capacities including 5t, 10t, 16t, 20t, 32t and 50t. Additionally, lifting height reaches up to 16m and span to 31.5m. Two operating methods include control in cabin and control using pendant or remote controller.
Specifications of the Explosion Proof Crane
1. (5-10t Capacity)
Lifting capacity
t
5
10
Span
m
10.5
13.5
16.5
19.5
22.5
25.5
28.5
31.5
10.5
10.5
13.5
16.5
19.5
22.5
25.5
28.5
31.5
Max. lifting height
m
16
16
Duty
A5
A5
Ex proof marking
ExdIIBT4 (ExdIICT4)
ExdIIBT4 (ExdIICT4)
Speed
Hoisting
M/min
2.8
2.4
Trolley traveling
10
8
Crane traveling
10
18
Motor
Hoisting
Type/ kw
YBZ132m2-6/3.7
YBZ160m1-6/5.5
Trolley traveling
YBZ112m-6/1.5
YBZ112m-6/1.5
Crane traveling
YBZ132m1-6/2.5
YBZ132m1-6/2.5
Main dimensions
B
mm
5050
5200
6024
5700
5930
6284
W
3400
3550
5000
4050
5000
B1
1140
512
1140
1250
772
B2
510
512
50
630
512
S1
800
1050
S3
1250
1300
b
230
230
K
1400
2000
Wc
1100
1400
H
1740
1876
1926
H1
765+HO
800+HO
765+HO
815+HO
H2
24
126
226
376
526
676
826
976
24
126
226
376
526
628
778
928
H3
2526
2546
2596
2756
2906
3056
3206
3356
2526
2546
2596
2756
2906
3008
3158
3308
H4
71
602
552
h
870
Weight
Trolley
T
2.12
3.42
Total weight
13.2
14.6
16.8
19
21.2
26
29
32
15
15
17
19
21
24
28
32
35
Max. wheel pressure
kn
74
79
85
92
98
110
118
125
102
102
109
118
123
130
142
151
160
Crane rail recommended
Kg/m
43
Power supply
3P A.C 50HZ 380V
2. 16-32t Capacity
Lifting capacity
t
16/3.2
20/5
32/5
50/10
Span
m
10.5
13.5
16.5
19.5
22.5
25.5
28.5
31.5
10.5
13.5
16.5
19.5
22.5
25.5
28.5
31.5
10.5
13.5
16.5
19.5
22.5
25.5
28.5
31.5
10.5
13.5
16.5
19.5
22.5
25.5
28.5
31.5
Max. lifting height
Main hook
m
16
12
16
12
Aux. hook
18
14
18
14
Duty
A5
A5
A5
A5
Ex proof marking
ExdIIBT4 (ExdIICT4)
ExdIIBT4 (ExdIICT4)
ExdIIBT4 (ExdIICT4)
ExdIIBT4 (ExdIICT4)
Speed
Main hoisting
M/min
2.6
2.55
2.3
2.25
Aux. hoisting
4
4
4
3.35
Trolley traveling
8
8
7.7
7.3
Crane traveling
10
10
10.8
12.6
Motor
Main hoisting
kw
YZB160L-6/11
YZB180L-8/11
YZB200L-8/15
YZB200m-8/22
Aux. hoisting
YZB132m1-6/3.7
YZB132m2-6
YZB132m2-6/3.7
YZB160m2-6/7.5
Trolley traveling
YZB132m1-6/2.2
YZB132m1-6/2.2
YZB132m2-6/2.2
YZB160m2-6/3.7
Crane traveling
YZB132m1-6/3.7× 2
YZB132m2-6/3.7
YZB132m1-6/5.5× 2
YZB160m2-6/5.5× 2
Main dimensions
B
mm
5940
5944
6434
5940
5944
6434
6724
6620
6924
6724
2824
7144
W
4000
4100
5000
4000
4100
5000
4650
4700
5000
4800
5000
B1
1230
1182
817
1230
1182
817
1212
1260
1262
1262
1312
1362
B2
710
662
617
710
662
617
612
660
662
662
712
782
S1
1040
1030
1070
1005
S2
1850
1900
2050
2200
S3
2310
2320
2680
3195
S4
1500
1450
1700
2000
b
230
260
230
260
260
300
300
K
2000
2000
2500
2500
Wc
2400
2400
2800
3680
H
2095
2185
2097
2343
2345
2475
2726
2732
H1
850+HO
940+HO
850+HO
940+HO
940+HO
1035+HO
1070+HO
1090+HO
H2
80
180
240
388
538
688
838
80
82
182
242
390
540
690
840
90
94
224
264
414
564
714
814
-79
96
102
252
402
552
702
802
H3
2520
2550
2620
2768
2918
3068
3218
2520
2522
2552
2622
2770
2920
3070
3220
2520
2524
2614
2644
2794
3944
3094
3194
2531
2526
2532
2632
2782
2932
3082
3182
H4
729
630
701
611
705
701
571
1020
1014
H5
770
496
790
948
h
820
820
675
Weight
Trolley
t
6.22
6.85
10.87
15.42
Total weight
19.2
21
23
27
30
34
38
41
20
22
24
29
32
37
40
43
27
30
33
30
41
46
50
54
37
40
44
49
53
50
62
68
Max. wheel pressure
kn
141
148
155
168
175
187
196
205
163
169
178
191
199
211
222
231
237
250
262
275
289
305
317
327
333
354
373
385
404
421
434
450
Crane rail recommended
Kg/m
40kg /mor QU70
Qu70 or Square steel 90
Qu80 or square steel 100
Power supply
3P AC 50HZ 380V