Single Girder Gantry Crane
Zhonggong's single girder gantry crane is mainly composed of girder, legs, travel mechanism, trolley hoist and electrical equipment. The girder comes with a welded box structure and the crane travel mechanism features separate drive. It is suitable for both indoor and outdoor services. This goliath crane is available in 5 lifting capacities including 5t, 10t, 16t, 20t and 32t, and comes with the maximum span up to 35m and the max lifting height reaching 12m. It is an ideal shipbuilding crane for outdoor storage yards, shipyards, steel plants large warehouses, etc.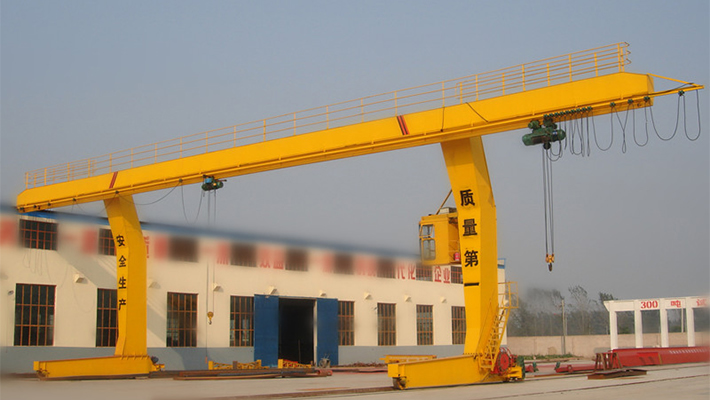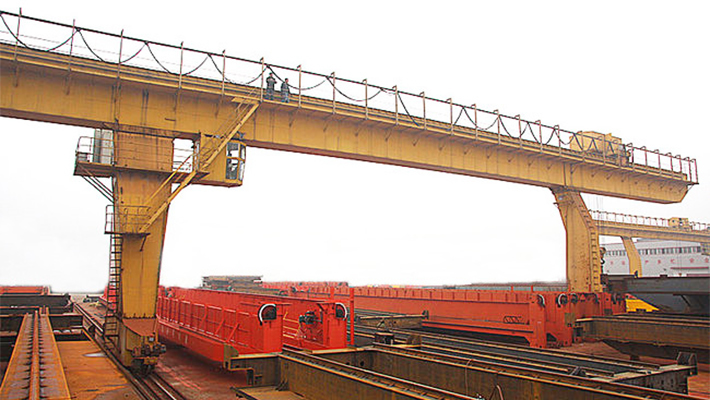 Under special circumstances, our single girder gantry crane can maximally match customer's needs based on its various designs. For example, it comes with two operation methods including remote or pendant control and cabin control. The driver cabin offers broad vision and is perfect for frequent use situations. It is provided with cam control gear or linkage control panel for easy operation, and can be equipped with electric fans, air cooler, air heater, air-conditioning and overload limiter for improvement of efficiency. To know more about this shipyard lifting equipment, please feel free to contact us any time.
Other Images
Technical Parameters of Single Girder Gantry Crane
Lighting capacity
Main hook
t
5
10
16
20
32
Aux. hook
3.2
5
5
Span
m
18
22
26
30
35
18
22
26
30
35
18
22
26
30
35
18
22
26
30
35
18
22
26
30
35
Lifting height
Main hook
11
12
12
12
12
Aux. hook
16
12
12
Classification
A5
A5
A5
A5
A5
Speed
Lifting
Main hook
m/min
12.5
9.82
9.7
9.3
7.6
Aux. hook
22.25
19.8
19.8
Crane travel
39.5
40.4
39.7
39.7
38.6
Trolley travel
46.2
39.5
40
39.5
40
39.5
40
39.5
48.3
48
49
54
Motor
Lifting
Main hook
Model
YZR160L-6/11
YZR200L-816
YZR225M-8/22
YZR250M1-8/30
YZR280M-10/45
Aux. hook
YZR160L-6/11
YZR200L-8/15
YZR200L-8/15
Crane travel
YZR132M1-6/2.2
YZR132MN2-6/3.7
YZR160M1-6/5.5
YZR160M1-6/5.5
YZR160M2-6/7.5
Trolley travel
YZR160M1-6/2× 5.5
YZR160M2-6/2× 5.5
YZR160L-6/2× 11
YZR160M1-6/2× 7.5
YZR160L1-6/2× 11
YZR160M2-6/2× 7.5
YZR160L-6/2× 11
YZR160L-8/2× 7.5
YZR150L-8/2× 11
YZR200L-8/2× 15
YZR160L-6/2× 11
YZR200L-8/2× 15
Weight
Trolley
t
2.6
3.989
7.171
8.635
12.7
Total weight
27.901
30.441
37.615
44.162
49.491
38.899
42.658
45.214
52.312
58.647
46.819
49.932
55.058
66.666
68.308
50.016
54.773
60.357
72.772
76.236
66.760
68.842
82.45/92.547
85.9100
100.562
Max. wheel pressure
KN
130.00
137.00
157.00
183.00
196.00
196.00
207.00
217.00
240.00
256.00
294.00
297.00
310.00
344.00
358.00
329.00
333.00
357.00
400.00
437.00
467.00
467.60
345
365
380
Steel rail model
38kg /m
43kg /m
43kg /m
43kg /m
Power supply
3-Phase AC 50HZ 380V