Level Luffing Crane
Level luffing crane is a commonly used portal crane. It is widely used in ports, shipside, stations and storage yards, providing extremely high material handling efficiency. Nowdays, it has been an indispensable port crane or shipyard crane, characterized by compact structure, high efficiency, great stability, comfortable operation, safety and reliability, easy maintenance and striking appearance.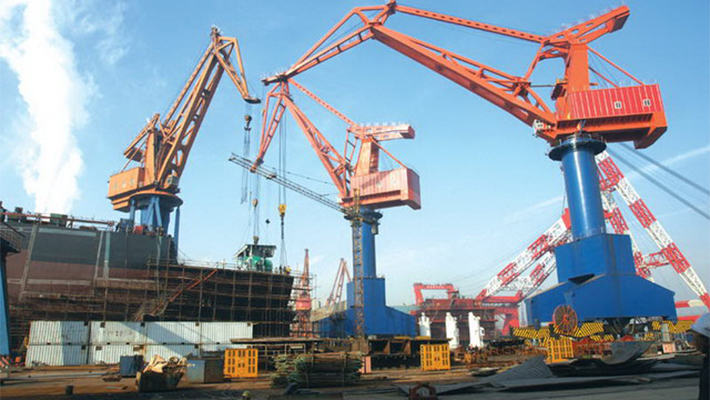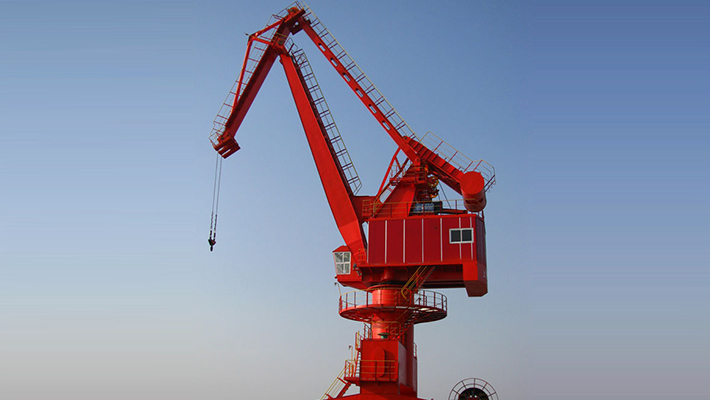 The level luffing crane is especially suitable for use in general purpose ports where it serves as highly popular container handling crane, ensuring low cost of investment but amazing efficiency in handling containers, sundries and bulk materials.
Zhonggong offers 5 types of level luffing cranes which come with hooks and grab buckets. They offer various lifting capacities according to the operation demands.
Technical Specifications of Level Luffing Cranes
Specification
1020
Lifting capacity
t
10
Classification
A7
Lifting height
Below base level
m
Grab bucket: 15
Hook: 25
Above base level
m
Grab bucket: 33
Radius
Max.
m
30
Min.
m
8.5
Hoisting mechanism
Classification
M7
Speed
m/min
60
Luffing mechanism
Classification
M6
Speed
m/min
52
Slewing mechanism
Classification
M6
Speed
m/min
1.51
Traveling mechanism
Classification
M4
Speed
m/min
27
Power supply
3-Phase AC, 50Hz, 380V
Track gauge/wheel base
m
10.5/10.5
Max. slewing radius
m
30
Tail slewing radius
m
-7.8
Max. wind pressure in service
N/m
250
Max. wind pressure out of service
N/m
1000
Max. wheel pressure in service
N/m
220
Steel track recommended
P50
Installed capacity
kw
350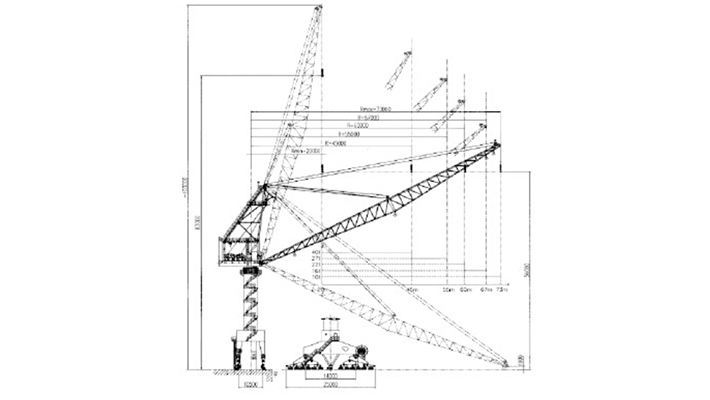 Specification
1623
Lifting capacity
t
Grab bucket: 16
Hook: 16/25
Classification
A7
Lifting height
Below base level
m
Grab bucket: 16
Hook: 25
Above base level
m
16
Radius
Max.
m
Grab bucket: 33
Min.
m
9.5
Hoisting mechanism
Classification
M7
Hoisting speed
m/min
50
Luffing mechanism
Classification
M6
Luffing speed
m/min
50
Slewing mechanism
Classification
M6
Slewing speed
m/min
1.51
Traveling mechanism
Classification
M4
Traveling speed
m/min
25
Power supply
3-Phase AC, 50Hz, 380V
Track gauge/wheel base
m
10.5/10.5
Max. slewing radius
m
33
Tail slewing radius
m
-8.5
Max. wind pressure in service
Kn
250
Max. wind pressure out of service
Kn
1000
Max. wheel pressure in service
Kn
250
Steel track recommended
P50
Installed capacity
kw
450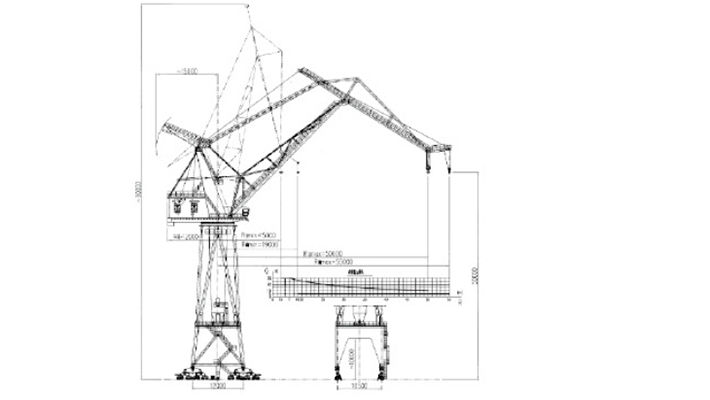 Specification
3055
Classification
A5
Lifting capacity
Load weight
t
Main hook
Aux. hook
30
10
5
Radius
M
15~17
15~50
19~55
Lifting height
m
50
50
Radius
Max.
m
55
50
Min.
m
19
15
Mechanism speed
Hoisting speed
M/min
10 ( 20, < 12t )
20 (40, <2t)
Luffing speed
M/min
~10
Slewing speed
M/min
0.24
Traveling speed
M/min
30
Power supply
3-Phase AC, 50Hz, 380V
Track gauge/wheel base
m
10.5, 12
Portal headroom
m
~10
Tail slewing radius
m
-15
Slewing platform tail radius
m
12
Max. wind pressure in service
Kn
250
Max. wind pressure out of service
Kn
1000
Max. wheel pressure in service
Kn
250
Steel track recommended
P50
Installed capacity
kw
220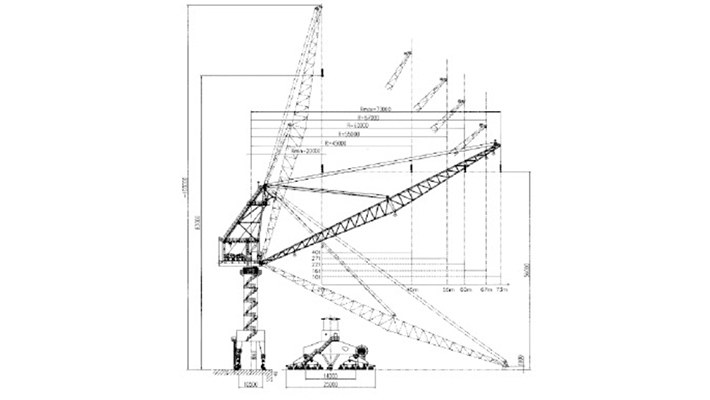 Specification
4073
Classification
A4
Lifting capacity
Load weight
t
40
27
22
16
10
Radius
M
20~45
20~55
20~60
20~67
20~73
Lifting height
m
45
Radius
Max.
m
73
Min.
m
20
Mechanism speed
Hoisting speed
M/min
0.2~10
Luffing speed
M/min
0.2~10
Slewing speed
M/min
0.3
Traveling speed
M/min
30
Power supply
3-Phase AC, 50Hz, 380V
Track gauge/wheel base
m
10.5/14
Portal headroom
m
8.06
Slewing platform tail radius
m
~9.4
Max. wind pressure in service
Kn
250
Max. wind pressure out of service
Kn
1000
Max. wheel pressure in service
Kn
400
Steel track recommended
P50
Installed capacity
kw
350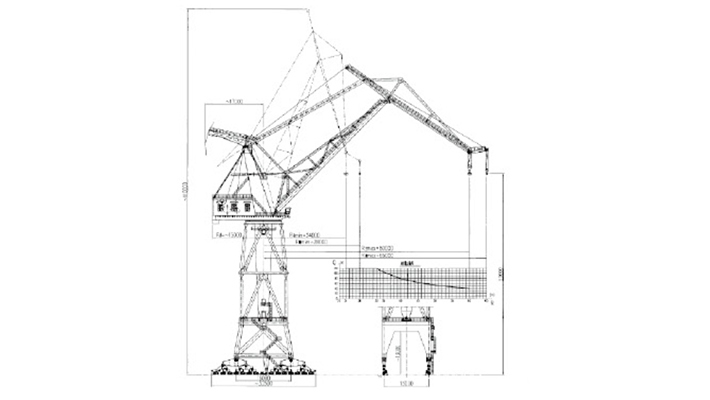 Specification
3055
Classification
A5
Lifting capacity
Load weight
t
Main hook
Aux. hook
120
40
5
Radius
M
24~33
24~60
28~65
Lifting height
m
60
60
Radius
Max.
m
60
65
Min.
m
24
28
Mechanism speed
Hoisting speed
M/min
6 (12,< 48t)
15 (30,< 8t)
Luffing speed
M/min
~10
Slewing speed
M/min
0.24
Traveling speed
M/min
30
Power supply
3-Phase AC, 50Hz, 380V
Track gauge/wheel base
m
13/16
Portal headroom
m
~13
Tail slewing radius
m
-17
Slewing platform tail radius
m
≤15
Max. wind pressure in service
Kn
250
Max. wind pressure out of service
Kn
1000
Max. wheel pressure in service
Kn
450
Steel track recommended
Q50
Installed capacity
kw
220