Electromagnetic Bridge Crane
Not only is the electromagnetic bridge crane suitable for outdoor or indoor handling of ferrous metals such as steel ingots, sectional steels and pig irons in metallurgical plants, but it can also be used in machine plants and warehouses to lift and transport scrap irons or steels. It is a workstation bridge crane and reaches A6 duty. Crane weight includes the dead weight of electromagnetic chunk.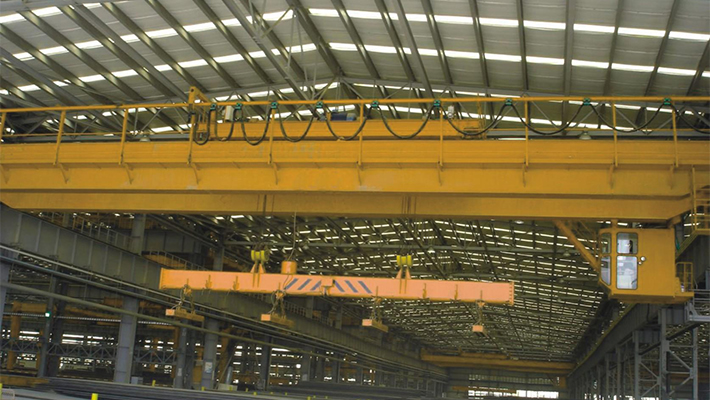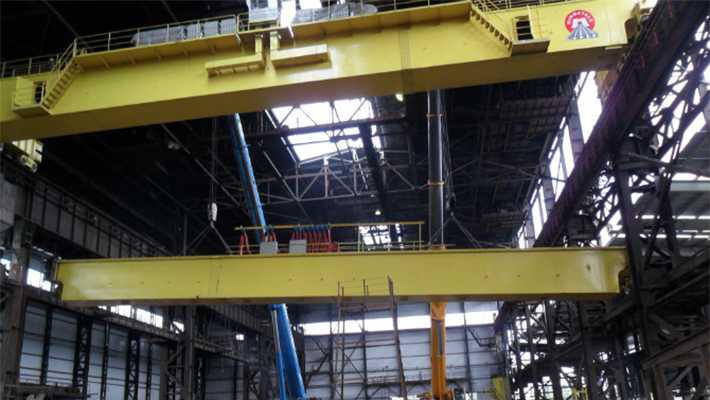 The electromagnetic overhead traveling crane consists of box girder, end truck, trolley hoist, electrical equipment and electromagnetic chunk. It only applies cabin control method. That is to say, all mechanisms of this bridge crane for steel industry are controlled in the driver cabin. In addition, we offer rain proof equipment for outdoor applications.
If you are browsing online for a perfect ferrous material handling solution, Zhonggong electromagnetic bridge crane is an ideal choice for you. Feel free to contact us anytime to know more about the lifting equipment.
Technical Parameters of the Electromagnetic Bridge Crane
Item
Unit
Parameters
Lifting capacity
t
5
10
16
Span
m
10.5
13.5
16.5
19.5
22.5
25.5
28.5
31.5
10.5
13.5
16.5
19.5
22.5
25.5
28.5
31.5
10.5
13.5
16.5
19.5
22.5
25.5
28.5
31.5
Max. lifting height
m
16
16
16
Speed
Electromagnetic chunk hoisting
m/min
19.9
19.4
16.4
Trolley traveling
39.5
43.8
45
Crane traveling
115.6
116.8
115.6
116.8
112.5
101.4
Motor
Electromagnetic chunk hoisting
type/ kw
YZR200L-6/1.5
YZR250M1-6/2.2
YZR132M2-6/45
Trolley traveling
YZR112M-6/1.5
YZR132M1-6/2.2
YZR132M1-6/2× 11
Crane traveling
YZR160M1-6/2× 5.5
YZR160M2-6/2× 5.5
YZR160M1-6/2× 5.5
YZR160M2-6/2× 7.5
YZR160M2-6/2× 7.5
YZR160L-6/2× 11
Main dimension
B
5390
5490
6100
6040
6130
6330
6235
6835
Ba
3600
3660
5000
4250
4200
5000
4400
5000
Bx
1100
1500 1700
1700
b
230
260
Lx
1400
1500
2000
H
1764
2028
2026
2076
2095
2097
2187
H1
2526
2546
2756
2906
3056
3206
3356
2528
2548
2598
2758
2908
3008
3158
3308
2570
2572
2552
2622
2770
2920
3070
3220
H2
735
790
890
S1
1250
1500
1900
S2
1500
F
122
126
226
376
526
676
826
976
122
128
228
378
528
626
778
928
180
182
182
242
390
540
690
840
h
850
720
700
Weight
Trolley
t
2.496
4.662
5.55
Total weight
13.64
15.45
17.44
19.96
22.34
26.64
29.84
32.84
19.5
21.4
24.2
25.9
28.7
33
36.3
39.2
20.6
22.5
25.8
29.1
31.8
35.9
39.4
42.3
Max. wheel pressure
KN
72
79
87
94
104
114
122
134
115
122
129
138
145
157
164
173
143
153
162
173
184
194
204
213
Electromagnetic chunk
Model
MW1-6
MW1-16
MW1-16
MW1-16
Suction capacity
T
4.54
3.33
8.33
14.33
Dead weight
0.46
1.67
1.67
1.67
Diameter
mm
776
1180
1180
1180
Steel track
d
38KG /m
43KG /m
43KG /m
Power supply
3-phase A,C 50HZ 380V