Balance Crane
The PY series hydraulic balance crane is our new type of material handling equipment. It is uniquely designed with a spiral lifting mechanism that is a great alternative for labors. Based on weight balancing principle, the crane system features smooth luffing and labor-saving and easy operation. It can considerably reduce labor strength and improve efficiency in works where material handling is frequent.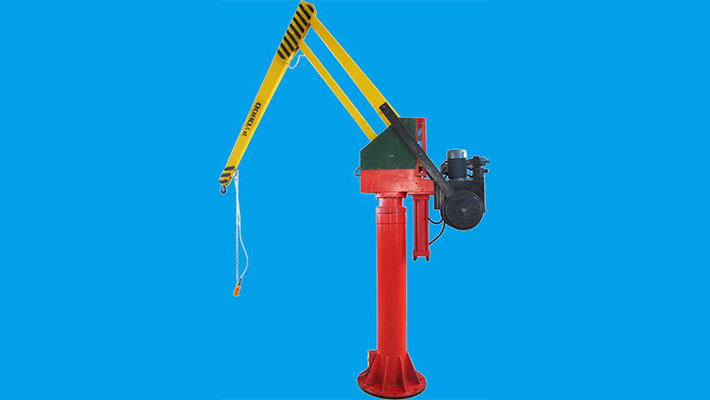 Application
The balance crane is widely used for parts and components assembly and for short distance, high frequency and intensive material hoisting and transporting works in stations, ports, warehouses, etc.
As required, the hydraulic crane can be equipped with variable frequency control or wireless remote control device. Get to know details about the handling crane from its parameter table below or contact us directly.
Technical Parameters of the Balance Crane
| | | | | | | | | | |
| --- | --- | --- | --- | --- | --- | --- | --- | --- | --- |
| Item | Code | Unit | PJF05-25 | PJF10-25 | PJF20-25 | PJF30-25 | PJF40-25 | PJF50-30 | PJF63-30 |
| Max. lifting weight | G | kg | 50 | 100 | 200 | 300 | 400 | 500 | 630 |
| Max. turning radius | Rmax | mm | 2500 | 2500 | 2500 | 2500 | 2500 | 3000 | 3000 |
| Level luffing | b | mm | 2000 | 1900 | 1900 | 1800 | 1800 | 2200 | 2200 |
| Max. lifting height | Hmax | mm | 2100 | 2120 | 2240 | 2500 | 2500 | 2900 | 2900 |
| Lifting range | S | mm | 1800 | 1800 | 1800 | 2000 | 2000 | 2150 | 2150 |
| Motor power | N | kw | 0.55 | 0.75 | 1.1 | 1.5 | 2.2 | 3 | 3 |
| Lifting speed | V | m/min | 6.9 | 6.7 | 6.8 | 6.1 | 6.2 | 5.8 | 5.8 |
| Max. height in service | Hg | mm | 3232 | 3270 | 3420 | 3640 | 3640 | 4180 | 4180 |
| Max. radius of counter weight | Rp | mm | 740 | 770 | 770 | 900 | 900 | 1090 | 1090 |
| Base radius | Rz | mm | 350 | 530 | 750 | 780 | 900 | 1000 | 1150 |